L'Arche Ottawa
NOT OFFERED 2023-24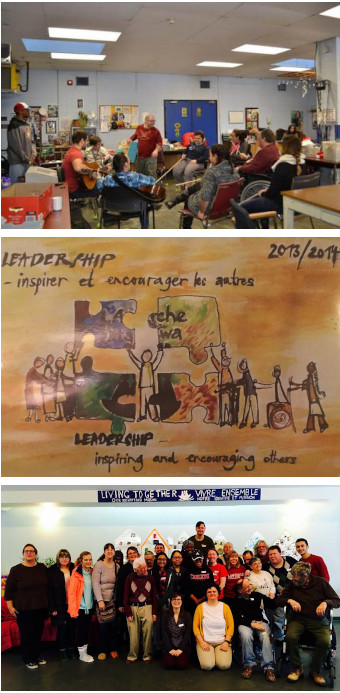 L'Arche is a network of communities for people with developmental disabilities. In 1964 the first L'Arche home was founded in France and today there are over 100 communities in 30 countries worldwide. The aim of L'Arche is to create communities that reflect a belief that everone is unique and of sacred value having dignity and fundamental rights. L'Arche communities are also communities of faith, rooted in prayer and trust in God.
L'Arche Ottawa is comprised of 7 houses, 2 apartments, 32 core members, and 25 assistants and offers a recreational day program for seniors. The L'Arche Ottawa community was founded in 1972. Life within L'Arche communities is shared with Service Learning students through their participation in the day to day lives and activities of L'Arche community members.
Transportation
Participants fly from Halifax and travel by ground transportation to their host community. Transportation outside the L'Arche community to other sites in the Ottawa are involves the use of car rental or public transportation.
Housing
Each Immersion group member stays in one of the houses that make up the L'Arche community. As a resident of the home, the student becomes a new member of that house during their stay. Alongisde staff who live and work there long-term, they assist with daily tasks taking place in that home. All meals are provided.
Service Placements and Group Sessions
Service Learning participants are incorporated into the daily routines associated with the working, recreational and spiritual lives of residents and assistants. Students assist in the daily chores around house management and sharing life together to create a home. They are assigned to help with one of a number of daytime programs and work settings for L'Arche core members in the broader community. Evening and daytime reflection sessions led by L'Arche leaders help participants to understand the meaning and purpose of L'Arche communities and how they function. Service Learning students will find their assumptions of what a 'disability' is are challenged and their understanding of the meaning of personal relationships is broadened.
Links

Contact
Service Learning
373 Coady International Institute
4780 Tompkins Lane
Antigonish NS B2G 2W5
Canada