Welcome
The Bloomfield Hub is a welcoming and inclusive space for students to connect and build community. 
Open Wednesday – Saturday from 7pm - 10 pm at the Bloomfield Café (2nd Floor Bloomfield Centre) 
New in 2023-24 – Hub on the Go – follow our social media for details.  

Check out FlourishatX on Instgram for more details about events at The Bloomfield Hub.
Calendar
All events run 7-10pm. See below for text version.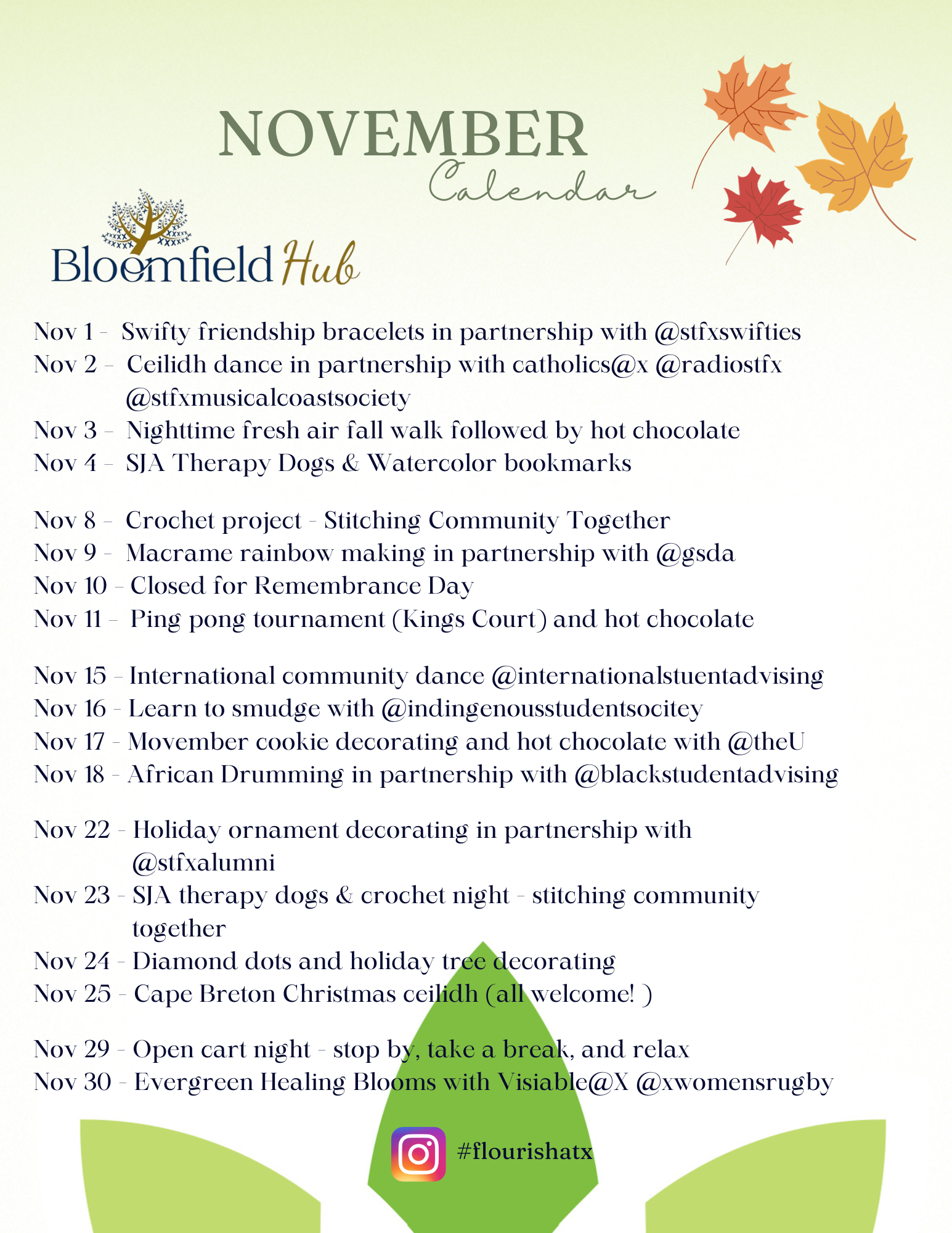 | November Calendar |   |   |
| --- | --- | --- |
| November 1 | 7pm-10pm | Swifty friendship bracelets in partnership with @stfxswifties |
| November 2 | 7pm-10pm | Ceilidh dance in partnership with catholics@x @radiostfx @stfxmusicalcoastsociety |
| November 3 | 7pm-10pm | Nighttime fresh air fall walk followed by hot chocolate |
| November 4 | 7pm-10pm | SJA Therapy Dogs & Watercolor bookmarks |
|   |   |   |
| November 8 | 7pm-10pm | Crochet Project – Stitching Community Together |
| November 9 | 7pm-10pm | Macrame rainbow making in partnership with @gsda |
| November 10 | 7pm-10pm | Closed for Remembrance Day |
| November 11 | 7pm-10pm | Ping pong tournament (Kings Court) and hot chocolate |
|   |   |   |
| November 15 | 7pm-10pm | International community dance @internationalstudentadvising |
| November 16 | 7pm-10pm | Learn to smudge with @indigenousstudentsociety |
| November 17 | 7pm-10pm | Movember cookie decorating and hot chocolate with @theU |
| November 18 | 7pm-10pm | African Drumming in partnership with @blackstudentadvising |
|   |   |   |
| November 22 | 7pm-10pm | Holiday ornament decorating in partnership with @stfxalumni |
| November 23 | 7pm-10pm | SJA therapy dogs & crochet night - stitching community together |
| November 24 | 7pm-10pm | Diamond dots and holiday tree decorating |
| November 25 | 7pm-10pm | Cape Breton Christmas ceilidh (all welcome!) |
|   |   |   |
| November 29 | 7pm-10pm | Open cart night - stop by, take a break, and relax |
| November30 | 7pm-10pm | Evergreen Healing Blooms with Visible@X @xwomensrugby |
Contact
Health and Counselling Centre
305 Bloomfield Centre
5555 Union Place
Antigonish NS B2G 2W5
Canada